This text has been translated from English into Spanish by Chem, for Ibidem Group's Translation Blog "Ideas Worth Translating".
An original text written by Michael Rogge, originally published in
https://wichm.home.xs4all.nl/newageb.html
* * *
PARTE DOS
El renacimiento oriental del siglo XIX
Los filósofos del siglo XVIII estaban desencantados con el estado en que se encontraba la civilización que veían a su alrededor. Se popularizó el enaltecimiento de otras culturas, entre ellas la china. Así, la chinoiserie empezó a aparecer en muebles y porcelana. También las óperas y obras de teatro se interesaron por temas chinos y hubo algunos que incluso consideraron que la sabiduría de Confucio era superior a los principios del cristianismo.
La fascinación por Oriente alcanzó su punto máximo durante el romanticismo (1790-1815).
Los eruditos occidentales habían comenzado a estudiar sánscrito en el siglo XVII, pero fue en el siglo XIX cuando las traducciones de las escrituras indias estuvieron finalmente disponibles en Occidente.
Los eruditos franceses tomaron la iniciativa. Junto con el sánscrito (1785) se descifraron otros idiomas: pahlavi en 1793, cuneiformes en 1803, jeroglíficos en 1822 y avéstico en 1832. El camino hacia los tesoros del pensamiento oriental estaba ahora despejado. Hodgson descubrió textos auténticos del budismo en 1821 mientras vivía en Nepal: consiguió 400 volúmenes en sánscrito y tibetano. Una gramática Pali fue publicada en 1826 por Burnouf y Lassen.
Un joven húngaro, Csoma de Koros, llegó a ingresar en la vida monástica en el Tíbet en 1850. Prinsep descifró las inscripciones del rey indio Ashoka entre 1834 y 1837.
El estudio del Islam y el Lejano Oriente ya estaban de camino. Las autoridades en semítico, índico y chino publicaron su literatura. Se imprimieron sin cesar traducciones de escritores preislámicos, poetas y místicos persas, junto con poesía china.
Por primera vez, la filosofía religiosa oriental era accesible de forma general. Condujo a un verdadero Renacimiento Oriental. La filosofía y forma de pensamiento contenida en las escrituras orientales asombró a la élite cultural occidental a mediados del siglo XIX e influyó a filósofos y escritores como Schopenhauer, Goethe, Heine, Nietzsche, Shelley, Emerson, Baudelaire y de Balzac.
El respeto por las religiones orientales creció ahora que sus grandes obras aparecieron impresas. En 1785, Wilkins publicó el Bhagavad Gita. Siguieron traducciones del Rig Veda, Mahabharata, Upanishads, Vishnu Purana y Lotus sutra, junto con una "Introducción a la historia del budismo indio" de Burnouf.
El enfoque espiritual de estas religiones redescubiertas fue percibido como un alivio del dogmatismo cristiano predominante. Surgió la idea de la unidad detrás de todas las religiones.
Espiritismo
A raíz del cambio de valores, algunos movimientos espirituales obtuvieron nuevos seguidores.
El mesmerismo alcanza su apogeo a mediados del siglo XIX. El fluidismo y el sonambulismo estaban siendo estudiados en toda Europa. Su método de curación a través del "magnetismo animal" y de estados inducidos por trance fue visto como otra prueba de que la mente podía gobernar la materia. La participación del espíritu en la curación estaba implícita.
Algunas de estas ideas encontraron su camino en los movimientos de la Ciencia Cristiana y el Nuevo Pensamiento .
Andrew Jackson Davis (1826-1910, más tarde conocido como "el vidente de Poughkeepsie") se convirtió en uno de los fundadores del espiritismo moderno en los Estados Unidos. Al igual que el posterior Edgar Cayce, podía dar un diagnóstico preciso de la enfermedad de un paciente mientras estaba bajo un "sueño magnético" inducido. Como creyente en el mesmerismo, desarrolló una filosofía espiritualista propia.
Mientras tanto, el espiritismo recibió un nuevo impulso. Cuando en 1848 Karl Marx comenzó su "Manifiesto Kommunistisch" con: "Un fantasma recorre Europa", los espectros hicieron un gran revuelo en Hydesville (NY, EE. UU.). Las hijas de la familia Fox lograron comunicarse con el espíritu de un muerto por medio de raps. La prensa se encargó de que estos hechos se convirtieran en noticia a nivel nacional.
El espiritismo surgió a raíz de los inventos del telégrafo y el teléfono que hicieron posible enviar mensajes a largas distancias. Se suponía que la comunicación con los muertos, hoy llamada canalización, podría descubrirse pronto. Los informes sensacionalistas de la familia Fox comunicándose con los muertos hicieron de las sesiones de espiritismo en casa un pasatiempo popular.

Incluso el presidente Lincoln (foto) tuvo contacto con médiums y participó en sesiones de espiritismo. En las cortes europeas la situación no fue menos diferente. El movimiento espiritista se puso así en marcha, reclamando millones de creyentes.
Teosofía
Fue Madame H. P. Blavatsky (HPB para los entendidos) quien combinó la tradición esotérica europea, el espiritismo y el renacimiento oriental en un sistema coherente. Ella le dio una doctrina secreta, una mártir (ella misma), un origen misterioso y, finalmente, le dio la forma de una fraternidad semi-religiosa. Afirmó haber recibido de los Maestros de Sabiduría una clave para los misterios que durante mucho tiempo se mantuvieron en secreto para la humanidad. Se pensaba que esta Hermandad Blanca, estos pioneros de la humanidad, se reencarnaban constantemente para iluminar a la humanidad con su sabiduría y conocimiento.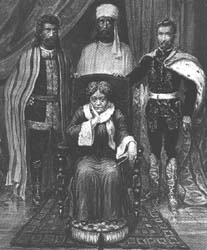 De esta forma, presentó un concepto notable y revolucionario de la vida en el universo. Al mismo tiempo, le dio al hombre un nuevo propósito de vida basado en las tradiciones religiosas y filosóficas de la India.
A pesar de las burlas, estas ideas y enfoque causaron una profunda impresión en la sociedad de finales del siglo XIX y siguen siendo la base del movimiento conocido como la Nueva Era.
Sin embargo, sin que ella se diera cuenta, la filosofía de HPB estaba imbuida del espíritu de la época. En su sistema, el intelecto podía desentrañar los misterios del universo. Su lema "No hay religión más alta que la verdad" apuntaba más a la exploración intelectual que a las percepciones intuitivas obtenidas a través de la meditación y la contemplación, como era el caso de la teosofía mística (¡sin capital!) de épocas anteriores.
Madame Blavatsky le dio a la humanidad una gran visión del universo, contrastando con el corsé de la perspectiva dogmática intolerante del cristianismo del momento. En general, se creía entonces que la creación había tenido lugar hace unos seis mil años. Blavatsky defendía que fue hace miles de millones de años y que la humanidad existe desde hace millones de años en la Tierra. Ella introdujo también el concepto de un universo holístico. La popularidad de las ideas actuales sobre la reencarnación y el karma, ahora palabras familiares, se remonta a ella.
También debe mencionarse que en años posteriores la Teosofía enfatizó la importancia del desarrollo de la percepción intuitiva a través de la práctica de disciplinas orientales como el Raja yoga y la meditación. La Teosofía también señaló a la población indígena de la India e Indonesia el valor de sus antiguas tradiciones olvidadas y así aumentó su respeto por su propia cultura. Gandhi, Nehru y Sukarno fueron miembros una vez.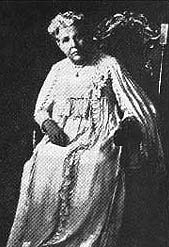 En el momento en que Madame Blavatsky fue acosada por rumores escandalosos, encontró una digna sucesora en Annie Besant en el año 1889. Besant era una mujer de extraordinario talento y gran oradora. El historiador Arthur Nethercott escribe: "Durante sus ochenta y cinco años, Annie Besant vivió muchas vidas, algunas de ellas tan increíbles que parece imposible que las haya vivido". Además de dar un nuevo impulso a la Teosofía, también devolvió a la India el respeto por su propia cultura. Tuvo una influencia poderosa en la campaña por la autonomía india antes de que Gandhi y más tarde Nehru se hicieran cargo.
Krishnamurti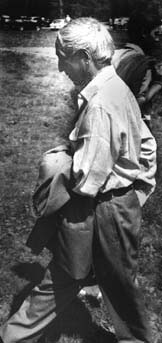 Besant también se encargó de la educación de un niño indio muy especial, Jiddu Krishnamurti. Hijo de un teósofo indio, el talento de Jiddu fue descubierto por el compañero más cercano de Annie Besant, C. W. Leadbeater, en 1909. Para su consternación, después de alcanzar la madurez, Krishnamurti abogó por un enfoque de la vida bastante diferente al de los teósofos. La disolución en 1929 de la Orden de la Estrella en Oriente, fundada especialmente para él, supuso un duro golpe para el Movimiento Teosófico, que ya había sufrido numerosas separaciones. Después de los años 30, la Teosofía se convirtió en una sombra del movimiento de control mental que había sido. Su papel fue asumido por otros.
El cuarto camino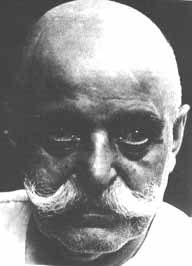 Uno de esos nuevos movimientos fue fundado por George Ivanovitch Gurdjieff (foto). La vida de este maestro espiritual está tan envuelta en misterio como la de Madame Blavatsky. De hecho, tenían muchas similitudes. Se supone que nació en Alexandropol (República de Armenia) en la época en que se formó la Sociedad Teosófica en 1875, de padre griego y madre armenia. Gurdjieff afirmó que cuando era joven había viajado mucho. Incluso había llegado al Tíbet en 1902, al igual que HPB. Algunos creyeron que se trataba de un agente zarista. En su libro Meetings with Remarkable Men, Gurdjieff describe su búsqueda de los Maestros Ocultos de la Sabiduría, que lo llevó a Egipto (como a HPB) y de allí a Asia Central y el norte de la India.
Su entrenamiento y enseñanzas posteriores fueron la esencia de la instrucción que dijo haber recibido de varios maestros en escuelas esotéricas. Son una desviación de la tradición teosófica; sin embargo, como hacen la mayoría de las enseñanzas para mantener su influencia, reflejan el espíritu de cambio de la época.
Las instrucciones de Gurdjieff estaban dirigidas al desarrollo armonioso de los supuestos centros en el hombre. Llegó en un momento en que se estaba descubriendo la psicología de Freud.
Cuando el ballet ruso, en particular el de Diaghilev, tuvo un gran impacto en Occidente, Gurdjieff introdujo su revolucionaria forma de ballet. De esta forma, el sistema de Gurdjieff se aprovechó de las modas y tendencias de su tiempo.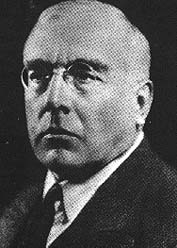 Un destacado autor ruso, Peter Damien Ouspensky, que se había apartado del pensamiento teosófico y había explorado la dimensión del tiempo en su libro La Cuarta Dimensión, conoció a Gurdjieff en 1912 en Moscú. Gurdjieff iba a presentar allí su ballet. Ouspensky quedó impresionado de inmediato por la misteriosa figura, pero nunca confió en él completamente.
En En busca de lo milagroso, Ouspensky relató el inusual entrenamiento y las aventuras que vivieron durante la época de la revolución rusa. Finalmente, en 1919 ambos llegaron a Europa y se establecieron en Francia y Gran Bretaña respectivamente. En ese momento se habían distanciado y ambos habían fundado sus propias escuelas.
Gurdjieff estableció el Instituto para el Desarrollo Armonioso del Hombre en el chateau du Prieuré des Basses-Loges, Francia, en 1922. Se dio a conocer por el duro trato que daba a sus seguidores. Esto Gurdjieff lo consideró necesario. Lo denominó sufrimiento consciente voluntario, imprescindible para que sus devotos, aún dormidos, despierten a la realidad.
Más tarde se crearían nuevos centros de formación por adeptos rivales de Gurdjieff. Uno de ellos es John G. Bennett, quien introduciría Subud en Occidente en 1957.
New Age (Nueva Era): un redescubrimiento
Lo que se conoció como el movimiento New Age inyectó nueva vida a tradiciones casi olvidadas en un momento en que la fe cristiana había perdido su significado para la generación más joven.
El mayor crecimiento de New Age se dio en los Estados Unidos, lo que no es sorprendente, ya que el movimiento se inspiró en doctrinas religiosas y filosóficas ya existentes, aunque inactivas, que habían llegado a un punto crítico en el siglo XIX.
Como hemos visto, la religión oriental y las tradiciones ocultas europeas tuvieron un gran impacto en la élite intelectual de América en el siglo XIX. El segundo presidente John Adams (1767-1848) es conocido por su fascinación por el pensamiento oriental. Fue un lector voraz de las traducciones de obras religiosas orientales.
Los líderes que estuvieron en la cuna del nacimiento de la nación fueron influenciados por el pensamiento masónico, espiritista y rosacruz. "Comienza un Nuevo Orden de la Era" proclama el reverso del Gran Sello de los Estados Unidos.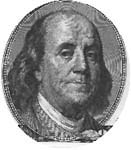 Ocho signatarios de la Declaración de Independencia eran masones, entre los que se encontraban Benjamin Franklin (en la imagen) y George Washington, así como dieciséis presidentes posteriores.
Escritores estadounidenses prominentes, conocidos como los trascendentalistas, estaban profundamente influenciados por el pensamiento oriental. Ralph Waldo Emerson (1803-1882) fue uno de los grandes admiradores de los clásicos religiosos orientales, en particular el Bhagavad Gita. Su secretario, Henry David Thoreau, escribió Walden, fuente de inspiración para los hippies de un siglo después.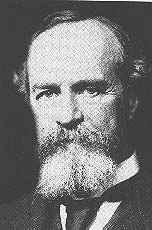 Uno de los psicólogos estadounidenses más destacados de la época, William James (1842-1910), publicó en 1902 sus variedades pioneras de la experiencia religiosa, construyendo un puente entre la psicología y la religión. Se ha convertido en la piedra angular del estudio científico de la religión hasta el día de hoy. El Profesor James también desarrolló un estudio de los fenómenos paranormales y desempeñó un papel destacado en la fundación en 1885 de la Sociedad Americana para la Investigación Psíquica.
Un evento digno de mención fue el Parlamento de Religiones celebrado en Chicago en 1893. Era la primera vez que se organizaba un evento de este tipo. Ante una audiencia de cuatro mil personas, los líderes de las grandes religiones presentaron sus puntos de vista sobre la vida. Uno de los resultados fue un mayor aprecio por las religiones orientales, que estuvieron bien representadas. Swami Vivekenanda expuso el hinduismo profundo; Soyen Shaku, abad de un monasterio japonés Rinzai, trató el budismo zen. Anagarika Dharmapala estableció después del congreso una rama estadounidense de la Sociedad Maha Bodhi, la primera sociedad budista en Occidente.
Esto fue simplemente el comienzo de un flujo de enseñanzas orientales y gurús que alterarían el pensamiento occidental.
Al mismo tiempo, la tradición esotérica occidental también encontró seguidores en nuevas escuelas, movimientos y cultos. Demasiado numerosos para explicar aquí ahora mismo.
New Age fue principalmente un movimiento entre la generación más joven a finales de los años sesenta que exigía desempeñar un papel más importante en todos los aspectos de la sociedad. A través del uso de drogas que expandían la mente, se les estaba revelando una realidad mayor que requería otras explicaciones que las que podía dar la religión tradicional. Sus conceptos de Dios y del Amor eran demasiado simples para dar cabida a las abrumadoras experiencias que estos jóvenes tuvieron en sus viajes. La trascendencia, la autorrealización, el yoga, la meditación, todas ellas parte de tradiciones existentes, se estaban redescubriendo y practicando.
Originalmente, se le había dado el nombre de la Era de Acuario aludiendo a la nueva era de desarrollo espiritual que se predijo en la astrología.
A principios de los años setenta, cuando el movimiento estaba bien encaminado, se adoptó el nombre de New Age. Por supuesto, era un término con historia. William Blake ya escribió en 1804-08, en su prólogo a Milton: "¡Ánimo, oh jóvenes de la Nueva Era!"
Como era de esperar, la Nueva Era desató fuerzas contrarias del lado de las denominaciones cristianas fundamentalistas. Especialmente después de que Marilyn Ferguson escribiera en su libro The Aquarian Conspiracy que la fraternidad dedicada a esta filosofía constituía una red mundial. Las personas dedicadas se reconocerían en unos minutos sin signos secretos, sino simplemente por un breve intercambio de ideas. Esto fue visto como una especie de conspiración satánica. Especialmente las personas que seguían las llamadas prácticas ocultas quedaron bajo sospecha. El cristianismo ortodoxo encontró aliados en los igualmente dogmáticos escépticos y miembros del CSICOP en sus esfuerzos por suprimir y tergiversar la Nueva Era, el ocultismo y los informes de fenómenos paranormales en los medios.
Pero en realidad fueron los cristianos los que empezaron a tergiversar la vida de Jesús. Esta es la conclusión de algunos eruditos bíblicos modernos. El documento más antiguo que ha sobrevivido de la tradición de Jesús es el del evangelio de Tomás, parte de los papeles de Nag Hammadi descubiertos en Egipto en 1945. En él se presenta un Jesús gnóstico que tiene más afinidad con la Nueva Era que con el fundamentalismo del cristianismo ortodoxo.
Los cristianos consideran que la Biblia es la palabra de Dios, mientras que una pequeña investigación muestra que los códices más antiguos del siglo IV que tenemos son el producto de innumerables errores de copia, inconsistencias, alteraciones e invención de cuentos de hadas, a menudo tomados de fuentes paganas, para infundir asombro en la figura de Jesús que supuestamente respaldaba sus puntos de vista dogmáticos, pero que pudo haber sido un hereje. Por un lado, los evangelios no fueron escritos por los apóstoles. El evento más importante en la vida de Jesús, la crucifixión, puede que ni siquiera haya ocurrido. No se menciona en los documentos más antiguos del primer siglo. Los cristianos posteriores infundieron miedo en sus seguidores con su predicción del fin del mundo que se avecinaba durante su vida, y con las persecuciones sangrientas de herejes y judíos. Así se burlaron de lo que enseñaba su supuesto fundador.
En las últimas décadas, los escépticos parecen haber tenido éxito. Aunque hay avistamientos regulares de ovnis, círculos en las cosechas y otros eventos inexplicables, casi nunca llegan a la prensa. Sin embargo, lo paranormal abunda en las películas de ciencia ficción. Aunque ya casi no se escucha hablar del fenómeno de la voz electrónica, otro (el juego de Charlie, en el que los lápices se mueven sin ser tocados) cautivó hace un tiempo la mente de los niños. Hay explicaciones para el fenómeno. Como era de esperar, los más increíbles provienen de los escépticos. A la Sociedad académica para la Investigación Psíquica, con un historial de investigación que data del siglo XIX en adelante, ya casi no se la escucha.
New Age aún no ha llegado al final del camino. Está llegando a una etapa de madurez en la que el trigo se está separando del maíz. Sin embargo, todavía comprende un amplio campo de actividades, desde la estafa comercial hasta la dedicación desinteresada para servir espiritualmente a la humanidad. Muchos no desean que se les asocie con el nombre porque les recuerda la turbulencia asociada con el levantamiento de las generaciones jóvenes de finales de los años sesenta y las lamentables excrecencias de las drogas.
Uno puede orar para que el movimiento mantenga su pureza e impulso originales, eleve el espíritu de las nuevas generaciones, dándoles una amplia perspectiva de la vida y un propósito por el cual vivir.
Hombre – un gran milagro
La visión de la Nueva Era puede contribuir a fomentar una gran visión para la generación joven. Liberados del sofocante corsé del estrecho dogmatismo religioso, puede presentarles un gran concepto del hombre en el universo. En su forma actual, aprende que desde el Big Bang en adelante, hace miles de millones de años, como un milagro, el universo se ha desarrollado. Y la maravilla definitiva es la aparición de la especie humana debido a una estupenda secuencia de 'coincidencias'. La ciencia solo ha explorado la corteza física de la naturaleza, pero no tiene idea de lo que hay detrás. Hay muchos indicios de que hay mucho más de lo que se ve a simple vista: la conciencia apenas se aborda, los fenómenos paranormales son estudiados solo por unos pocos, entre ellos hombres de ciencia, incluso ganadores del premio Nobel. Pero los medios de comunicación le prestan poca atención.
La Nueva Era puede dar a la humanidad una visión más amplia del mundo con sus aspectos desconcertantes como el sufrimiento, la injusticia y la soledad. Señala las asombrosas propensiones de la naturaleza para que las especies se ajusten a circunstancias arduas, mejorándolas hasta la perfección con las adaptaciones más ingeniosas, culminando en el fenómeno del hombre. Pero el hombre se encuentra todavía en una fase intermedia en el umbral del desarrollo de potencialidades mucho mayores escondidas en su naturaleza. En su corta trayectoria ha tomado conciencia de que a través de la introspección se pueden despertar las capas más profundas en sí mismo. Las mutaciones de la mente se están explorando en disciplinas como el yoga, la contemplación, la meditación, el latihan, el éxtasis, etc. En su mente tiene visiones de un universo mucho mayor de lo que sugiere la ciencia. Así, el hombre se encuentra en el umbral de grandes desarrollos de los que solo hemos visto el comienzo.
Mientras tanto, lea mis reflexiones filosóficas sobre cuestiones fundamentales que desconciertan a la humanidad haciendo clic en Sobre la psicología de los movimientos espirituales.
Literatura:
Blavatsky, HP: La clave de la teosofía
Braden, Charles: Espíritus en rebelión; el surgimiento y desarrollo del nuevo pensamiento (1963)
Darnton, R .: Mesmerism and the end of Enlightenment in France (1968)
Dutton, EP: El movimiento teosófico
Faivre, A.: Acceso al esoterismo occidental (1994)
Ferguson, Marilyn: La conspiración de Acuario (1980)
Freke, Timothy y Gandy: Los misterios de Jesús (1999)
Freke, Timothy y Gandy: La hermética (1997)
Godwin, J.: La iluminación teosófica (1994)
Gurdjieff, GI: Encuentros con hombres notables
Hanegraaff, WJ: Religión de la Nueva Era y cultura occidental. El esoterismo en el espejo del pensamiento secular (Nueva York 1998).
Hanegraaff, WJ (ed): Diccionario de Gnosis y Esoterismo Occidental (2005)
Heelas, Paul: El Movimiento de la Nueva Era. (1996)
Hutin, Serge: L'Alchimie
Israel, JI: Ilustración radical: filosofía y creación de la modernidad 1650-1750 (2001)
Jackson, Carl T .: Las religiones orientales y el pensamiento estadounidense (1981)
Johnson, K.Paul: Los maestros revelados (1994)
Lutyens, Mary: Los años del despertar
Meade, Marion: HP Blavatsky. Mujer detrás del mito.
Merkur, D.: El sacramento psicodélico: maná, meditación y experiencia mística (2001)
Needleman, Jacob: Las nuevas religiones (1984)
Nethercot, Arthur H.: Las primeras cinco vidas de Annie Besant
Nethercot, Arthur H: Las últimas cuatro vidas de Annie Besant
Ouspensky, PD: En busca de lo milagroso
Pagels, Elaine: Los evangelios gnósticos (1979)
Pruyser, Paul W.: Entre la creencia y la incredulidad (1974)
Rawlinson: El libro de los maestros ilustrados (1997)
Roberts, JM: La mitología de las sociedades secretas (1972)
Schwab, Raymond: El renacimiento oriental (1984)
Spangler, David: Apocalipsis: El nacimiento de una nueva era (1976)
Stevenson, David: Los orígenes de la masonería (1988)
Stevenson, David: Los primeros masones. Las primeras logias de Escocia y sus miembros (1988)
Washington, Peter: El babuino de Madame Blavatsky (1995)
Wilson, Colin: De la Atlántida a la Esfinge (1996)
Yates, Frances A.: La filosofía oculta en la era isabelina (1979)
---
Enlaces: